The Elpis Story
Serving Minneapolis and the Saint Paul communities, Elpis Enterprises provides job training, work experience, and employment placement services for young people experiencing homelessness and unstable housing. The mission of Elpis Enterprises, a 501(c)3 nonprofit organization, is to "Foster Youth Employment and Career Pathway Building Through Social Enterprise". Our goal is to have Elpis graduates be successful in the broader labor market today and in the future.
Through opportunities to work in one of Elpis' several social enterprises, the young people we work with have the opportunity to build skills, build experiences, and build relationships in the community. They leave with the skills, knowledge, and confidence necessary to overcome homelessness and become contributing members of our community.
For more than two decades Elpis has operated social enterprises. Our two primary enterprises are a decorated apparel enterprise and a product-centered woodworking enterprise using recycled cedar.
By operating social enterprises (small businesses) Elpis offers trainees hands-on opportunities to:
Develop strong employment readiness (soft) skills
Gain diverse paid work experiences (production and nonproduction)
Explore possible careers
Elpis and its staff are committed to creating a more equitable and inclusive community. This includes adopting in 2018 an Equity Statement to provide us with a lens when engaged in decision making and programming planning. Promoting equity within Elpis is an ongoing process.
How to Support Elpis
Elpis Enterprises is a recognized nonprofit organization. While our product sales fully cover our manufacturing costs, community support is needed for our employment-readiness services. If these costs were including in pricing our products, we would not be market competitive.
If you would like to support our mission, we're always accepting donations through GiveMN and PayPal. Your donation goes directly toward our employment readiness training and related support services.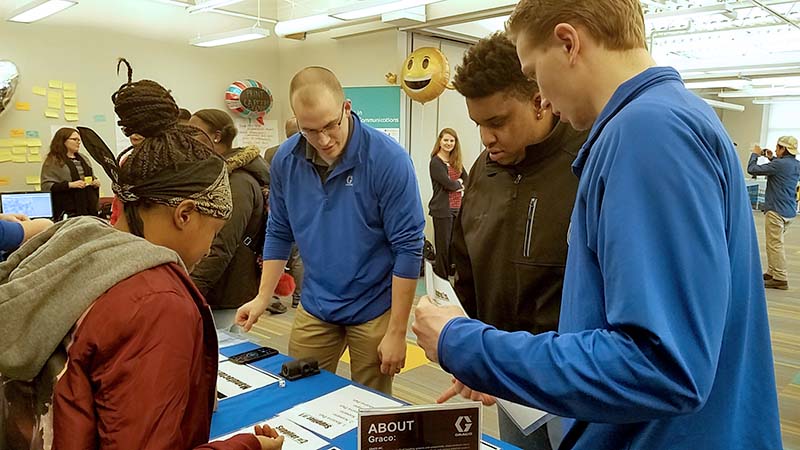 Job Training
Young people experiencing homelessness may be able to obtain employment but struggle to retain employment or effectively use an entry-level position as the first step on a career path. This is often due to:
Being seen as unreliable by others although their present day-orientation is vital for surviving homelessness. The soft skills valued by employers (e.g. teamwork, communication) are the opposite of the skills needed to maintain safety when homeless (e.g. distrust of people).
Not having the resources available to help them process what is going on at work.
Solution: Elpis Enterprises provides a supportive work experience to young people experiencing homelessness. Our work experiences offer opportunities for a trainee to:
Build Skills: Our focus is on building employment readiness (soft or 21st century) skills as identified by the U.S. Department of Labor and best practice research as critical in career pathway building and success in obtaining and retaining employment in any work setting. Soft skills are developed by individualized coaching as well as by offering life skills classes, introductory technical training, and opportunities to earn recognized certifications or credentials.
Build Experiences: On-the-job training and paid work experience in all the diverse aspects of a small manufacturing business (e.g. production, sales, and marketing, administrative) as trainees work in our social enterprises. From these opportunities, trainees develop a mastery of critical employment-readiness skills. Throughout their paid work experience at Elpis, trainees meet weekly with our career counselor to connect the dots between these experiences and their next steps in launching their career path.
Build Relationships: As trainees work with our staff and with other trainees, they develop the ability to trust others and a sense of 'belonging'. We build on this new level of trust as we guide trainees in taking their unique skills and talents into the broader community whether it is by facilitating our community workshops or attending networking events with local businesses.
Elpis' approach is unique from other career and workforce development programs available to young people between 16 and 23 years of age. We do not prepare a trainee for a specific career field. Instead, our career counselor works with each trainee every week that they are with Elpis to identify their career interests and talents and develop a plan that will use those individual interests and talents to obtain immediate employment and a long term career. While trainees are with Elpis and for the first 12 months after they graduate, our career counselor is available to guide them in moving forward in their career plan.
Upon completing our program, Elpis graduates:
Obtain employment that matches their interests and long-term career goals or continue their education related to their career goals.
Gain additional experience and career exploration opportunities through our Earn and Learn program. Earn and Learn positions are full-time paid employment at a local business. Each Earn and Learn experience is typically for 12 weeks and during that time Elpis continues to provide support to the trainee and also to the Earn and Learn employer.
Participate in a 12 month support program that includes mentoring and coaching related to job retention or moving forward their career pathway plan, as well as career related networking events.