One of the key ways we provide job training and work experience for youth is in our screen printing program. Our trainees operate a full-service custom screen printing shop. The shop specializes in textile printing – such as t-shirts, sweat shirts, bags, etc.
Running the shop provides our trainees with real-world experience in a supportive environment. Through the screen printing program, they learn how to work together as a team to complete a project, how to manage their time on a schedule, and how to hone their skills. They're supported by a professional staff with graphic design experience who provide training and expertise.
The end result is not just a tangible product, but also valuable experience for the trainees who worked on the product. They leave the program with knowledge, confidence, and job experience.
Most of our customers are groups located in the Twin Cities, which further provides a social network for our trainees to use as references and resources. Some of our customers also participate in our Earn and Learn program where trainees are provided paid positions within local organizations that offer an opportunity to further hone their skills and move forward their career pathway plan.
Our products are competitively priced and our services include artwork adaptation, wholesale purchase of t-shirts, printing, shipping, and/or delivery.
Pricing of screen printing projects is based on several variables which include:
• Type of shirt
• Color of shirt
• Sizes of shirt
• Quantity of shirts
• Number of images and location
• Colors in the image
• Type of image
Contact us to learn more about our capabilities to service your screen-printing needs.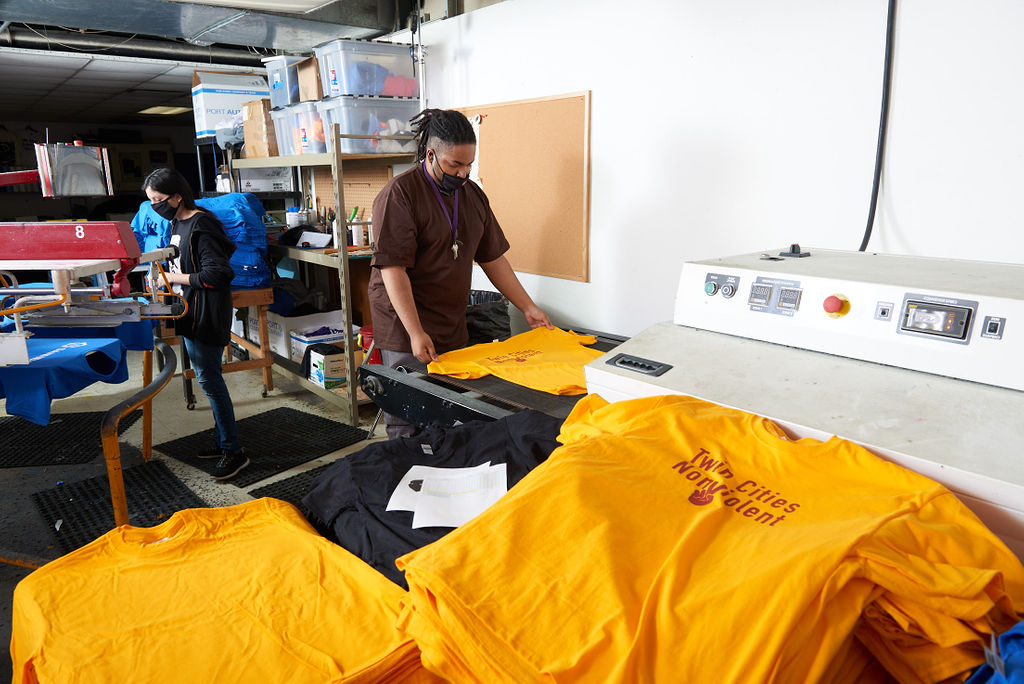 Self-Service – Design Your Own
We also offer a "design your own" option where you can create your own screen printed apparel items using our online application
Give it a try! Try the design studio and order your custom screen-printed item online.
Gallery